Limited Offer
25% OFF the Beginner Bundle! ($33.95 savings)

Limited Offer
25% OFF the Beginner Bundle! ($33.95 savings)
FAST, DELICIOUS, AND SUSTAINABLE
Introducing our BEGINNER BUNDLE
Get 25% Off on our Beginner Bundle. The Perfect Way to Enjoy Your Coffee Anytime, Anywhere!
Shop Now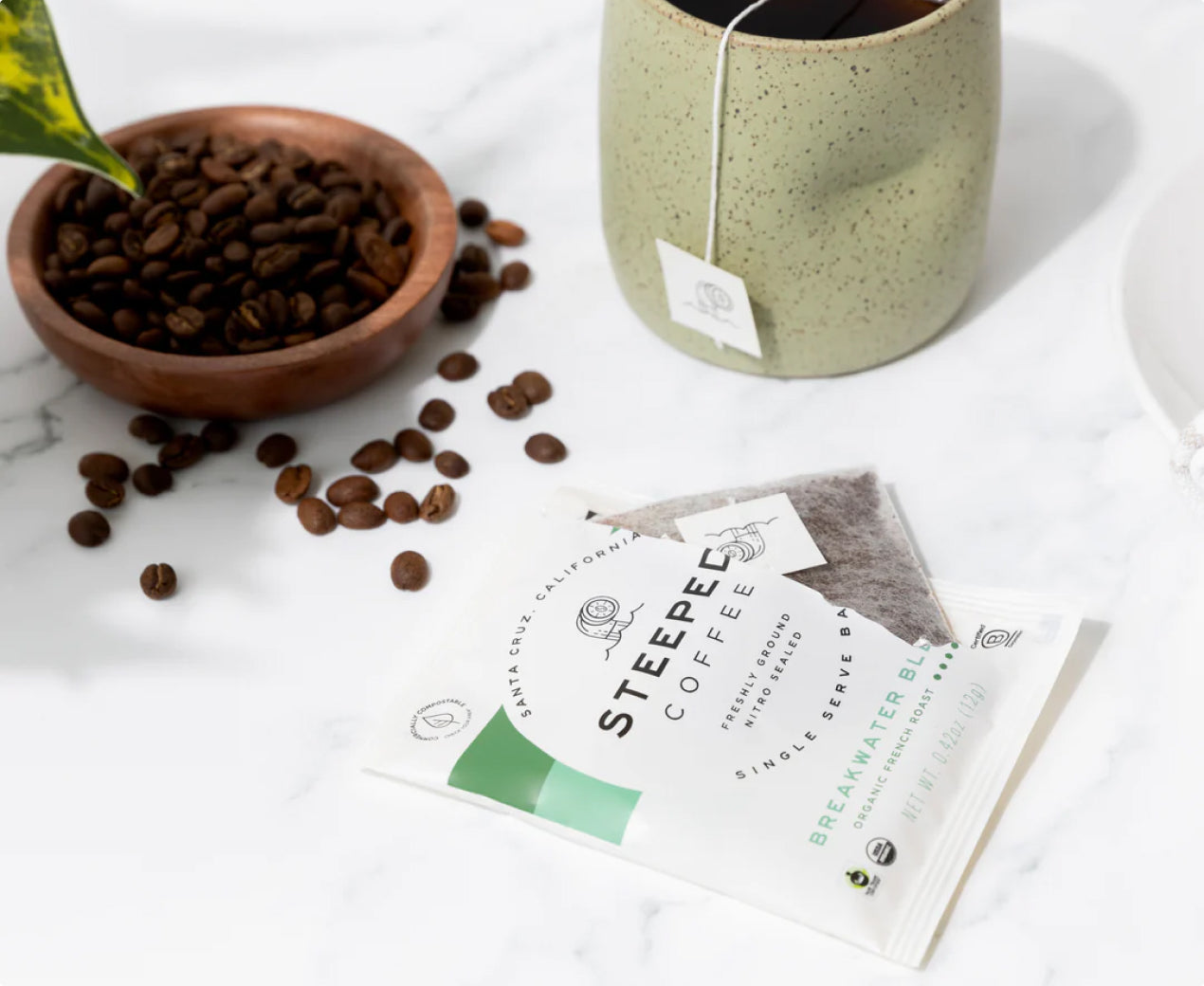 Join the Brew-volution
 with this pre-set bundle
Specialty roasts in sustainable single-serve brew bags for the best-tasting, planet-saving coffee on earth.
CONVENIENCE MEETS TASTE WITHOUT ECO-WASTE
Unmatched Flavor and Convenience, Brewed with Sustainable Practices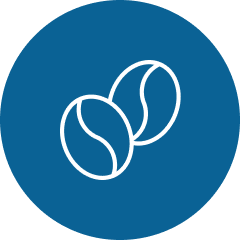 Featuring craft specialty coffee that's freshly roasted, precision ground, and triple nitro sealed for freshness.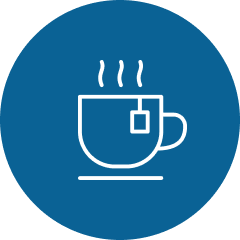 Brew a delicious cup of coffee anytime, anywhere – no pods, no plugs, no machines required.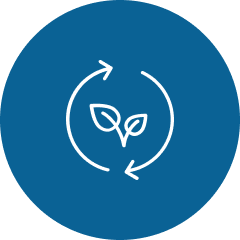 With a fully compostable inner bag and outer pack, you can drink coffee and defend the planet.
Shop Now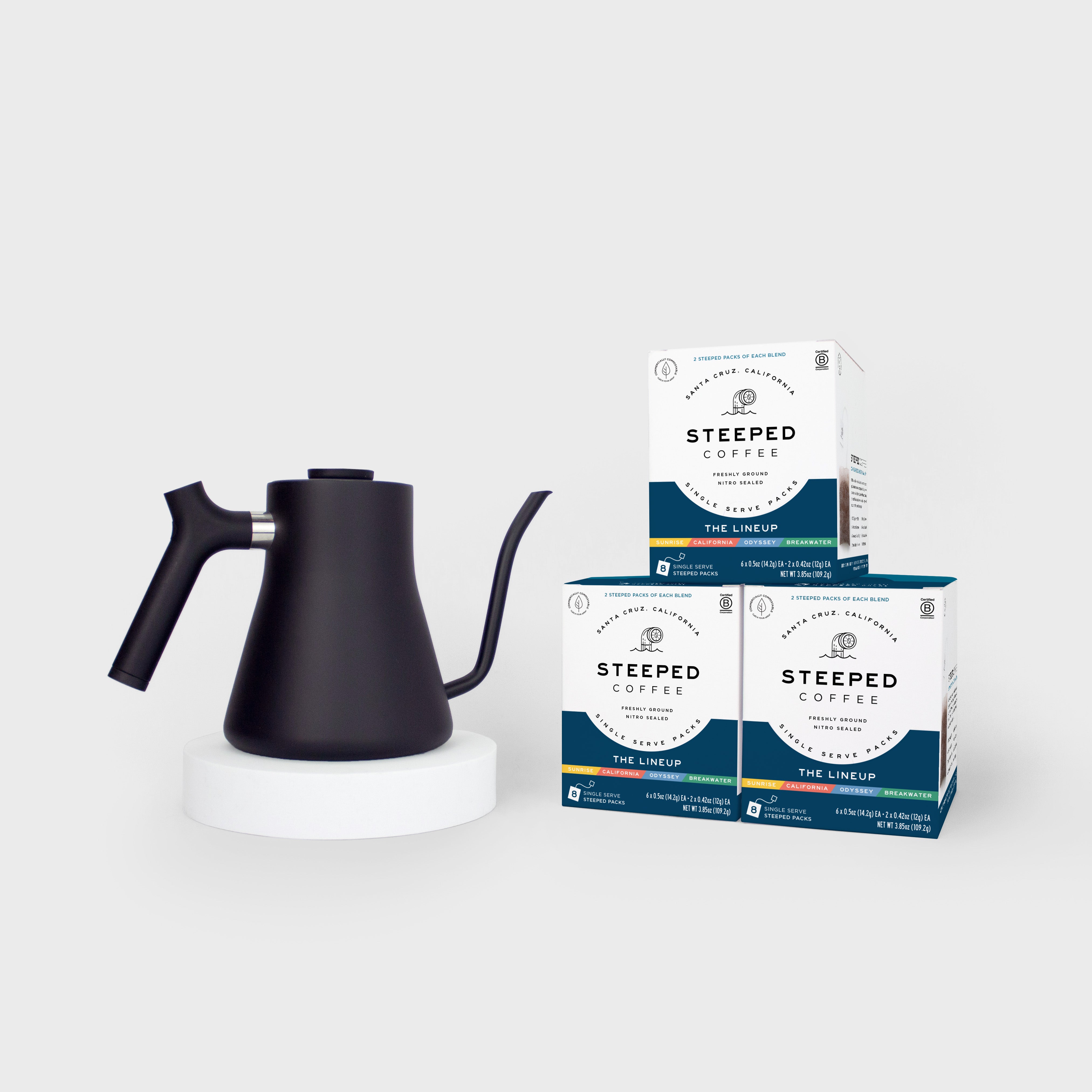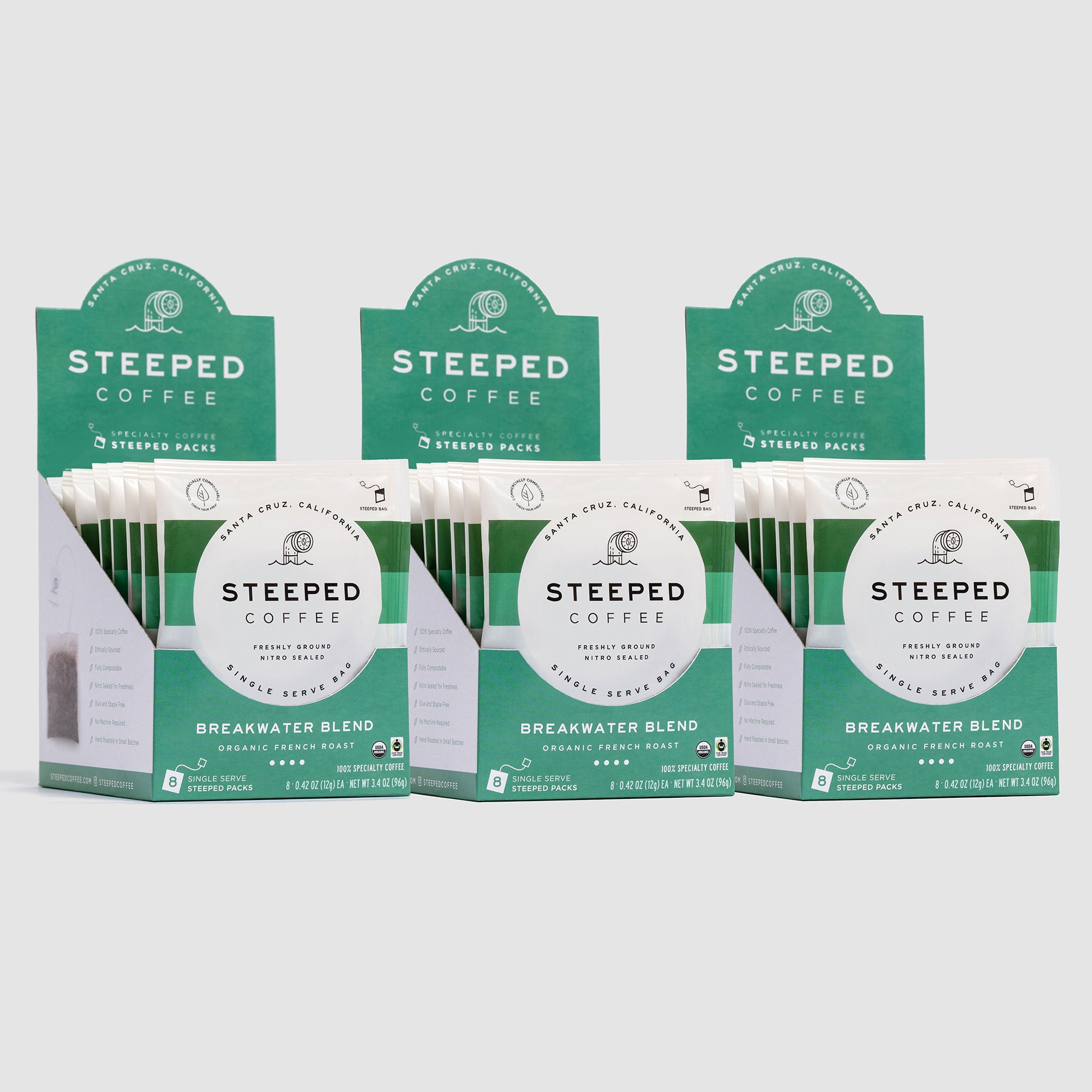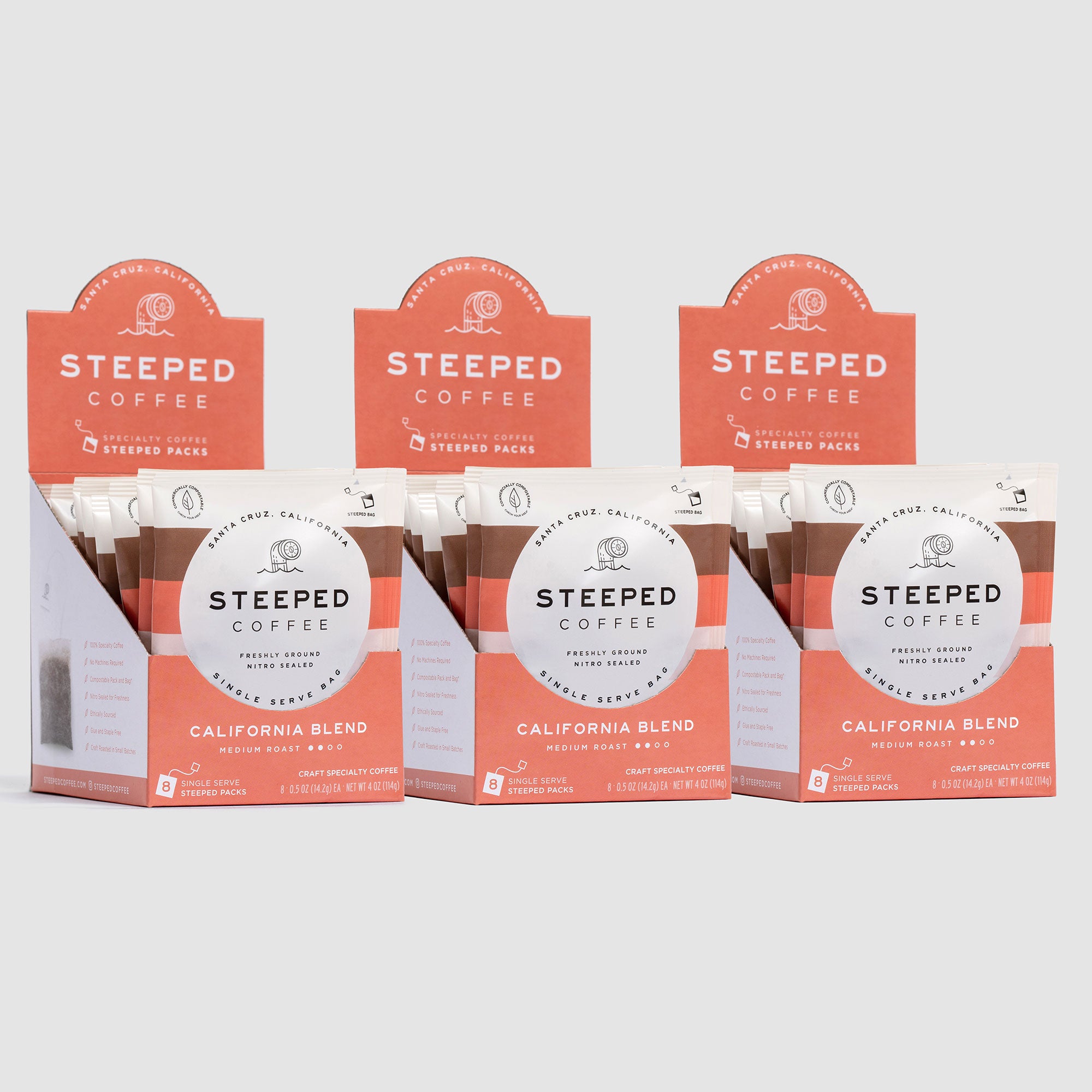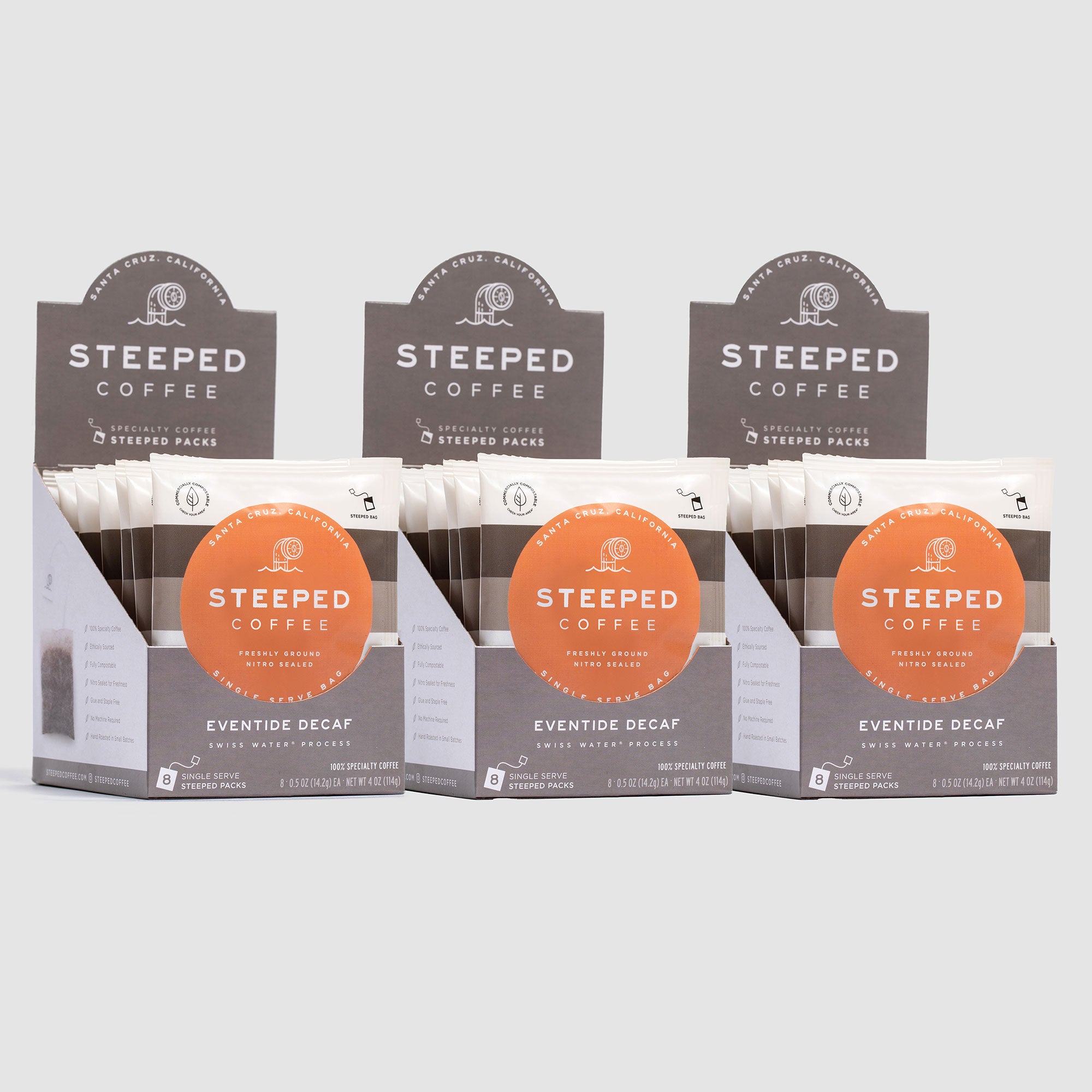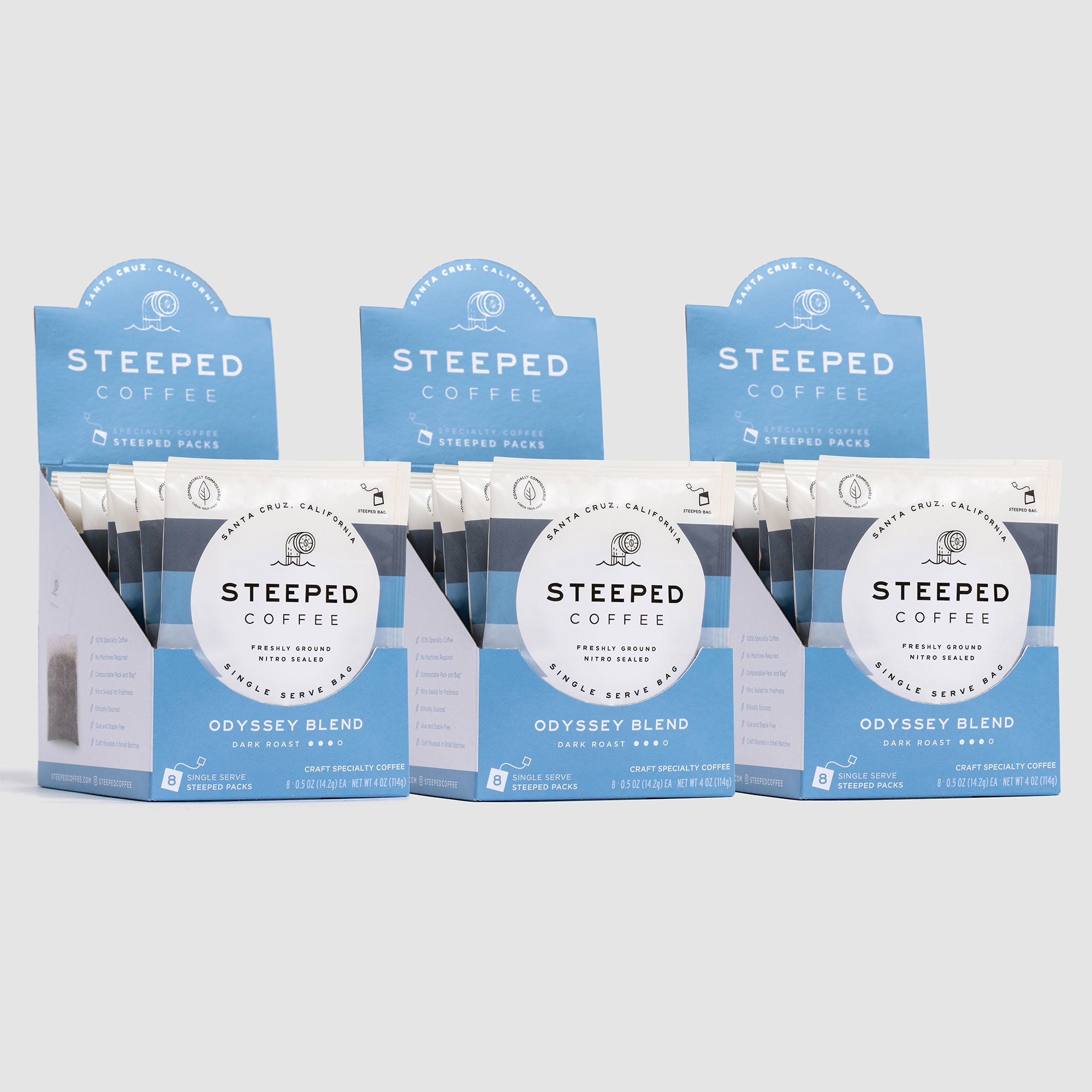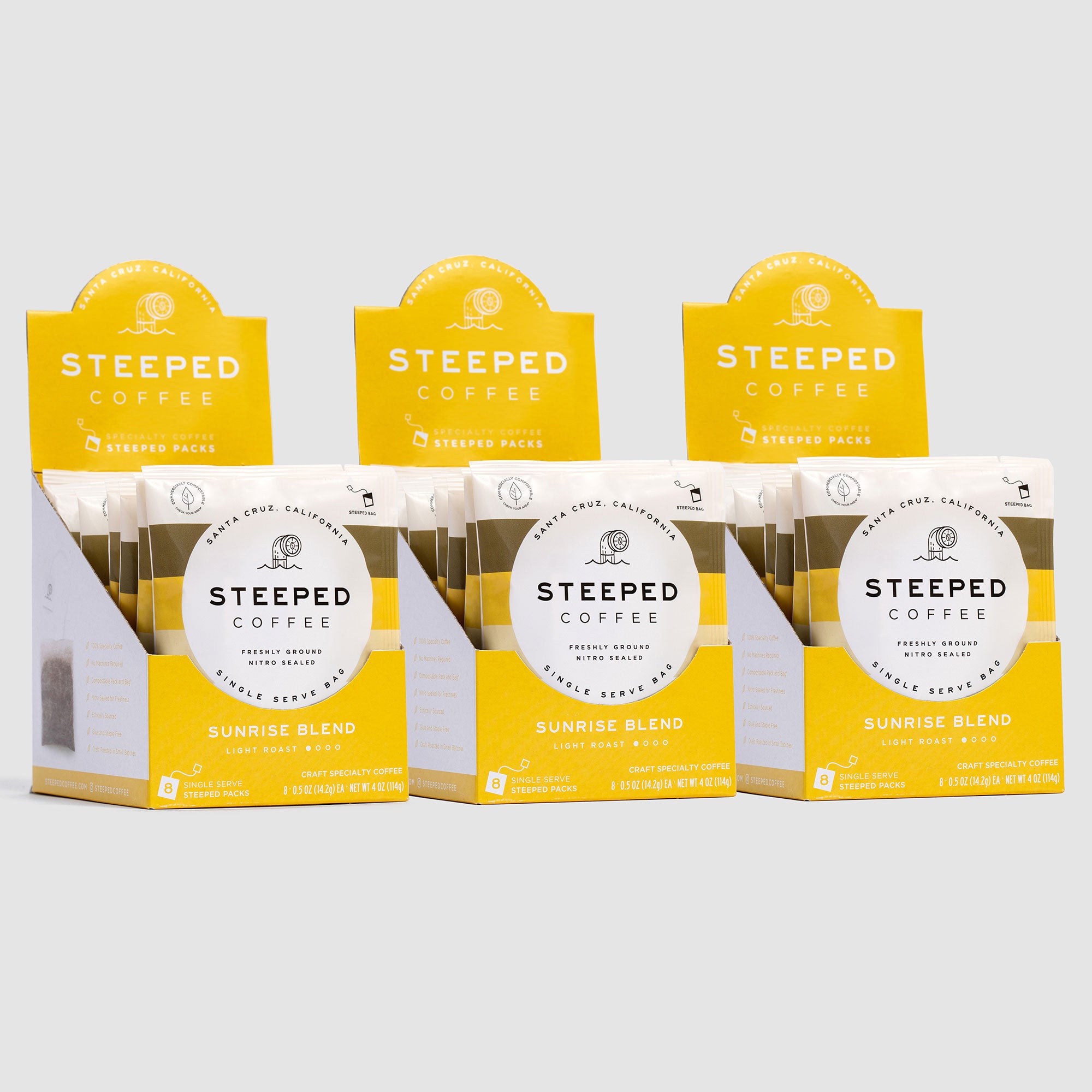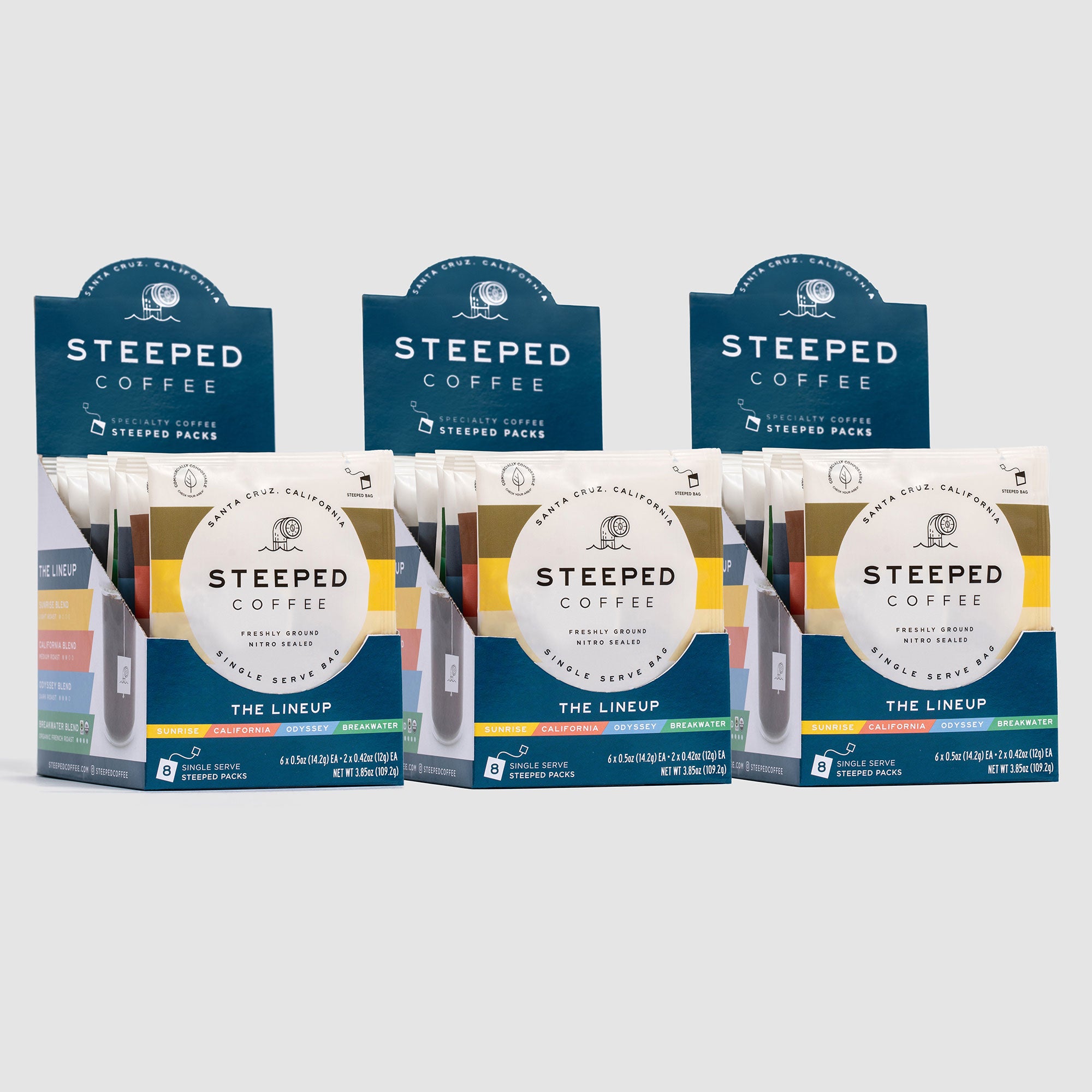 Beginner Bundle
Introducing the Beginner Bundle, the perfect combination to kickstart your journey into the world of Steeped Brewing. This exclusive bundle includes a 24-pack of your favorite Steeped Coffee Blend, accompanied by the highly acclaimed Fellow Stovetop Kettle. Elevate your coffee experience with this carefully curated set.
Our Roasts
Steeped Coffee's best-selling variety pack, The Lineup, is the ultimate introduction to the Santa Cruz-based roaster. Featuring its signature light, medium, dark, and French roasts, it's the perfect pack to find your favorite flavor.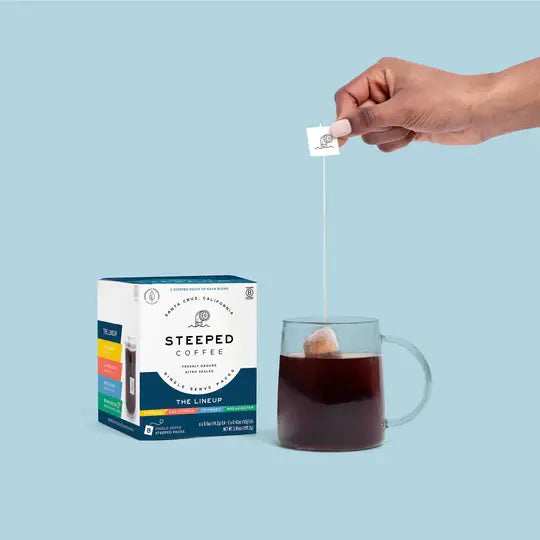 Steeped Coffee's darkest blend, Breakwater, is the ultimate smooth operator. This crowd-pleasing coffee has a subtly sweet and rich smoky flavor with just a glimmer of lemony citrus notes.
TYPE: Blend
ORIGIN: Guatemala, Peru
REGION: Various
PROCESS: Washed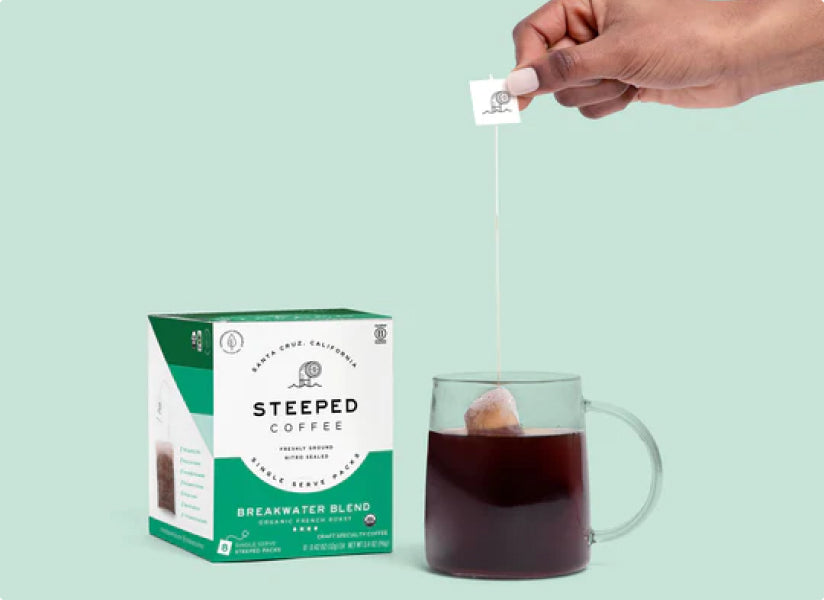 With its roasty flavor, full body, and deep structure, Steeped Coffee's signature dark roast invites you on a journey to the depths you have yet to explore. The Odyssey Blend bursts with savory and earthy flavors, ensuring all enjoy the ride.
TYPE: Blend
ORIGIN: Colombia, Guatemala, Peru
REGION: Various
PROCESS: Washed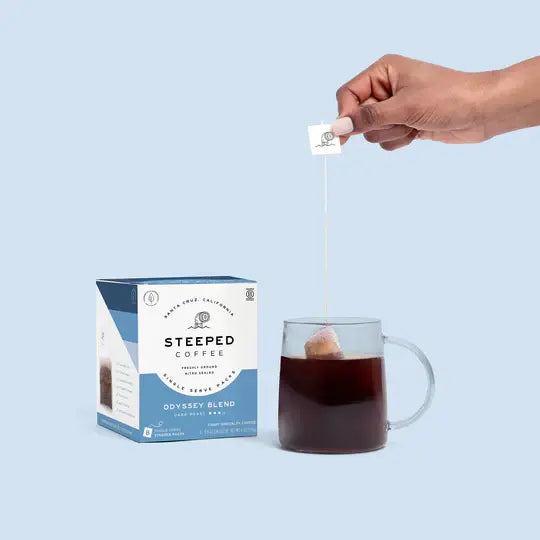 An homage to the state Steeped Coffee calls home, California Blend is a classically-inspired medium roast with nutty, chocolate, and roasty notes combined with well-balanced body and brightness. This welcoming blend offers an enjoyable experience, transporting you to that golden state of mind.
TYPE: Blend
ORIGIN: Guatemala, Peru
REGION: Various
PROCESS: Washed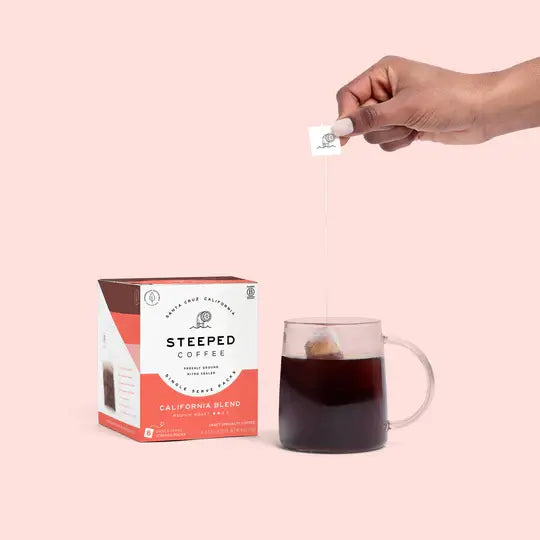 Steeped Coffee's Sunrise Blend is the perfect way to start your day. The roaster's signature light roast features the perfect blend of complex acidity with notes of chocolate, toffee, and a velvety body.
TYPE: Blend
ORIGIN: Colombia, Guatemala, Peru
REGION: Various
PROCESS: Washed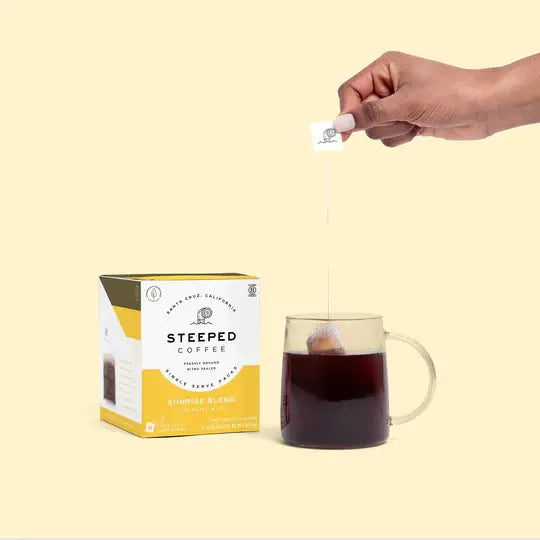 Steeped Coffee's Eventide Decaf delivers full flavor without caffeine. 100% Swiss Water processed without any chemicals, this single origin decaf balances low-toned flavors with a dash of fruitiness to tie the whole experience together.
TYPE: Single Origin
ORIGIN: Ethiopia
REGION: Harari People's Regional State
ELEVATION: 800 - 220 masl
PROCESS: Natural
HOW TO STEEP
Just pour, dunk, steep. Then sip and repeat!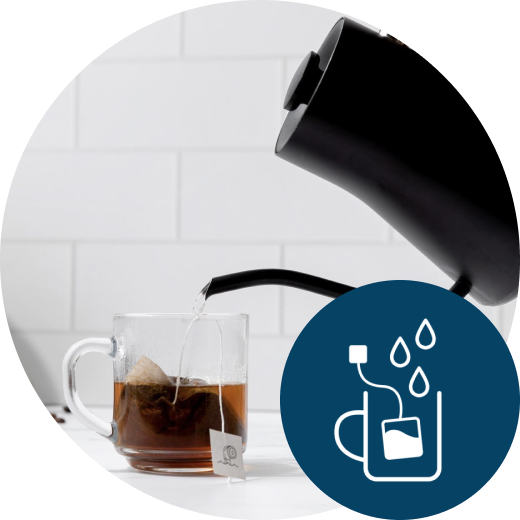 Place Steeped Bag in cup and gradually pour 8 oz of hot water over the bag.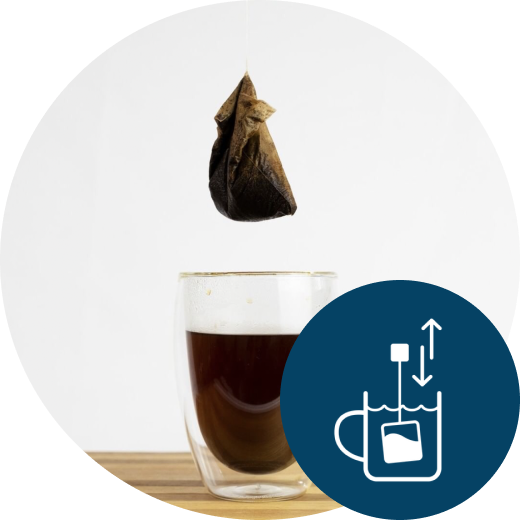 Dunk Steeped Bag for 15-30 seconds or longer for added strength.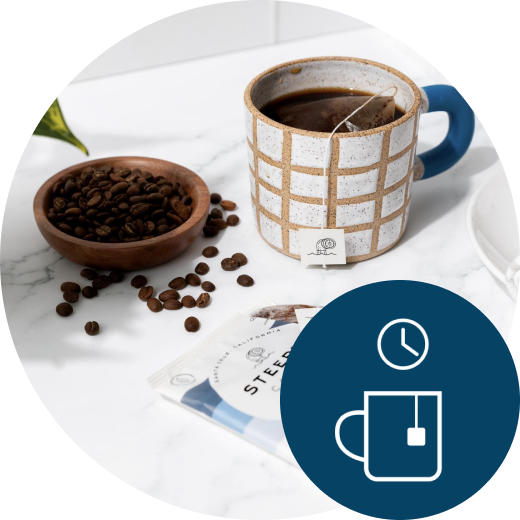 Steep 5+ minutes. Leave Steeped Bag in cup or until preferred taste.
Shop Now
From Our Customers
Our Happy Community
I love coffee but I can't drink it all day anymore. Thankfully, I found Steeped Coffee. The decaf is delicious and so easy to make. Good for the planet and for me!
Kelli G.
Verified Customer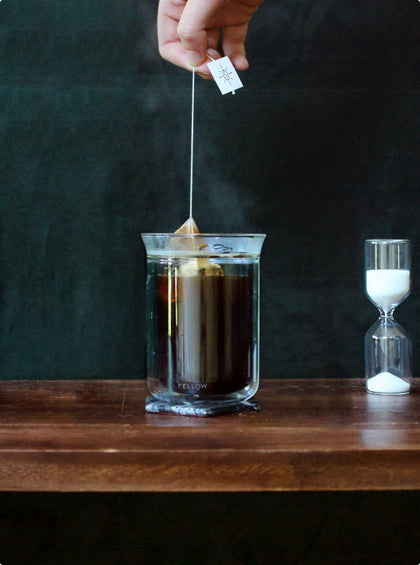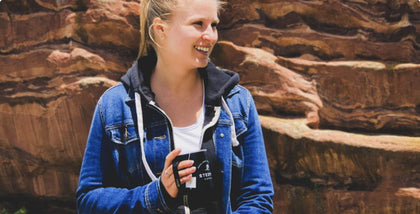 Great bold taste for single serve. Will buy again. Much better alternative then K Cup or make a small batch of coffee for afternoon pick me up.
Rebecca T.
Verified Customer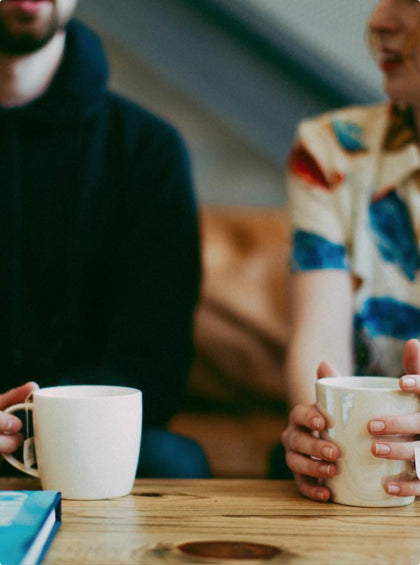 Am a fan of Steeped Coffee after just one purchase. The coffee is delicious and I really like the single serve concept. Often times, even when making a partial pot of coffee I'm not drinking all of it, so Steeped is solving that.
Donal M.
Verified Customer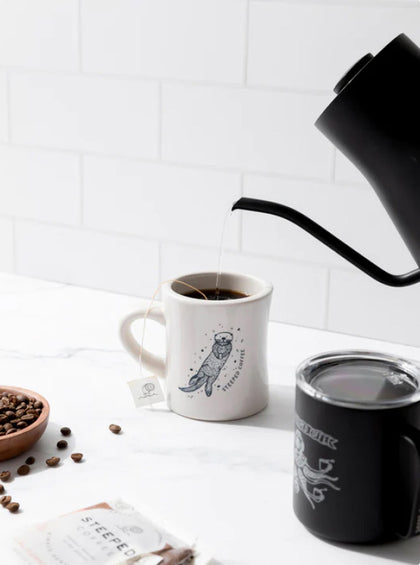 FAQs
Common customer questions
Steeped Coffee Packs are currently dosed with enough coffee for hot water brewing only. You could try cold brewing but would have to use less water per bag to get the correct dosing and taste, so at this time we don't recommend it.
No. Each Steeped Coffee Pack is dosed with 14.2 grams of 100% fair-trade specialty coffee. There are no solubles, crystals, or powders in our packs– just fresh ground coffee.
Steeped bags/inner filers are compostable and non-GMO including filter, string, and tab. Steeped outer film is also fully compostable and made using renewable non-toxic materials. Steeped retail cartons are fully recyclable and made using 100% recycled materials.
Of course not! You just have a slightly different taste preference than our average customer. Add less water for stronger coffee next time, or more water for weaker coffee. We recommend starting with 8oz of water and then adjusting from there after your first try.
Please donate any unwanted coffee to friends, family members, or neighbors. You can always donate to your local food banks as well, click here to find one near you. However we would like you to get back steeping, so please email us at support@steepedcoffee.com so we can help you find your perfect coffee.